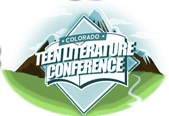 35th Annual Colorado Teen Literature Conference
Session One (9:45 - 10:45 a.m.)
​
Teen Only: Sandhya Menon
Teen Only Sessions provide an opportunity for the teen attendees to attend a presentation with the keynote authors, without the prying eyes of adults.
​
Denver Pop Culture Con: Something for Everyone!
Find out about how you can participate in the amazing Denver Pop Culture Con (formerly Denver Comic Con) as a teen, librarian or teacher! Learn about the opportunities to earn continuing education credits and the Excellence in Graphic Literature Awards, which showcases the best graphic literature of the past year for children, teens, and adults. Get involved with Pop Culture Classroom to inspire a love of learning, increase literacy, celebrate diversity and build community!
Presented by Tara Bannon Williamson and Dr. Katie Monnin
​
Writing 'The Real'
Every writer wants their story to ring true and to move people. We want readers to fall in love with the characters. YA authors, Anne Eliot & Ginger Scott (research-nerds), love writing 'The Real'. They've written about bullying, PTSD, racism, gangs, depression, runaways, addiction, and cerebral palsy. We'll cover how to approach 'The Real' inside your own writing. We'll discuss how to do research and how to find mentors to help. We'll discuss how writing 'the real' or what is 'real for you' can up your story's pacing, even when your characters don't have superpowers or other-worlds in which to live. We'll also discuss how 'the real' can fit into other-world stories with even higher impact.
Presented by Ginger Scott and Anne Eliot
​
All In Your Head
Stop the stigma and let's talk about it! Mental illness is not something to be spoken about in a whisper or with shame. The only way to normalize mental illness and erase stigma is to have open, honest conversations whether in our community or in our books. It is well past time we find stories that mirror our experience or so many that will give us a window into others. These librarians want to show you what fiction has to offer and where your library can help with resources to prove that you are not alone and you are worth the fight!
Presented by Erika Bayler and Hannah Stafford
​
What's New in YA
Join us as we book talk new YAL we think will engage young readers and have them asking for more good titles from their teachers and/or librarians.
Presented by Karen Hartman and Sheila Kaehny
​
Impromptu Bookclub: Return to Witch Mountain
Read a new book you can WAIT to tell someone about? Or maybe you HATED that best seller everyone else loved? Come share all the feels you have about books at Impromptu Book Club! It's a safe place to be real about the books you've been reading. We'll spend the time comiserating about the books we should have DNF'ed, and reveling in the books we want to re-read all over again! No stuffy questions or formalities here!
Presented by Becca Phillipson
​
Cracking the Award Committee Code
As librarians, educators, and lovers of children's and YA lit, the ALA Youth Media Awards and Selected Lists hold of a lot of appeal and importance. They help with collection development, reader's advisory, and most importantly, with championing awesome books for kids and teens. Have you ever wondered what it's like to serve on an award committee? How do the committees get chosen and how do they work? How much reading is really required? Get answers to these questions and others as you learn some of the secrets behind the award process, as well as best practices for committee service.
Presented by Jessica Schwartz
​
A Novel Approach
Jessie and Kelly met at the library, discovered a mutual love of YA, and promptly became besties who decided to record themselves talking about books…and so a podcast was born! JK, It's Magic is about reading YA through the critical lens of intersectional feminism, a theoretical framework that grew out of Professor Kimberlé Crenshaw's work. In this session, we will talk about the podcasting medium as a way to enrich the reading experience by establishing dialogues about issues of representation while also creating community. There's no need to be a podcast veteran to attend (we didn't know anything about it until 5 months ago). Come and discuss the possibilities podcasting offers readers!
Presented by Jim Kroepfl and Stephanie Kroepfl
​
Session Two (11 a.m. - 12 p.m.)
​
Podcasting and YA Lit: Critique and Conversation Beyond Bookclub
Learn how to create a super short and creative book talk. Participants will receive a helpful outline to follow with things to include in a book talk and then craft and deliver a book talk about the last book they read.
Presented by Kelly Drumright and Jessie Maimone
​
Blue Spruce Young Adult Book Award
What are the most popular books with Colorado teens? The Colorado Blue Spruce Young Adult Book Award nominees are suggested and voted on only by Colorado teens. Come learn about the award and this year's nominees, as well as what nominated authors are saying. Innovative ideas for promoting the award will be discussed, as well as the Blue Spruce's media presence and promotional materials. Come and explore what Colorado teens are reading!
Presented by Tana Lucero and Teresa Allen
​
Crafting the Creative College Essay
The essay can be a dreaded part of the college application process. But it doesn't have to be. In this lecture, Susan shares tips for writing a college essay that hooks the reader from the first line and is completely, truly you. An added bonus: don't be surprised if these tips help hone your creative writing skills, too.
Presented by Susan Cunningham
​
Writing Great Story Openings
When impressing a reader, agent, or editor you only have one page, and sometimes less to hook and keep people turning pages. In this fun, craft based workshop, we will go over how, why and where to start your story. We'll also cover how to create characters who instantly hold empathy, sympathy or curiosity in a reader's mind. We'll have a handout of some great story openers, one to suggest some craft books that may help, and we'll go through some examples on how you can open in action, while learning to weave in your character's backstory. If time permits we will help you with suggestions on your own works as well.
Presented by Anne Eliot and Ginger Scott
​
Rather be Reading?
So would we. As librarians who talk books with teens in middle and high schools all through the school year, we're taking a break to share all that precious book knowledge. Want to know what's trending right now? Curious about what other teens are reading? Come away with a diverse list of books to add to your TBR pile or collection.
Presented by Catherine Boddie, Bridget Kiely, and Lauren Reed
​
Make Your World Come ALIVE
Isn't it a delicious feeling to delve into a book and enter another world? Laura Resau will show you how to enrich setting and character through imagery and description. You'll do short, fun writing exercises to help make your story a dazzling, multi-sensory experience that readers can't resist. This workshop will let your writing shine!
Presented by Laura Resau
​
Are You #READWOKE
Come learn about the #ReadWoke movement and the books that will change you and that you can't go without! It's a feeling- a form of education. A call to action, and our right as lifelong learners. Come join us and arm yourself with knowledge- learning about others, giving voice to the voiceless, and standing up for the disenfranchised. Wait until you hear the books that you gotta have today!
Presented by Phil Goerner
​
Bring Fiction Feud to Your School
Tired of traditional book clubs? Try Fiction Feud. Support and promote literacy initiatives with a fun, new reading club and competition. Learn how five high school librarians conceived of and enacted a new intradistrict reading trivia program at their schools. Come learn and play Fiction Feud with us!
Presented by Vicki Briner, Tiffany Stephens, Tricia LaRue, Sara Poinier, and Susan Smith
​
Session Three (1:30 - 2:30 p.m.)
​
Teen Only: Bill Konigsberg
Teen Only Sessions provide an opportunity for the teen attendees to attend a presentation with the keynote authors, without the prying eyes of adults.
​
Advertising & Promoting for Self Publishing
Learn about the ins and outs of advertising for self publishers. Discuss thhe types of advertisements, picking a style that suits your audience and how to create a professional, polished image on a budget.
Presented by Nina Ana
​
Get Banned! Library Fashion Show for Banned Books Week
Banned Books Week is a great opportunity to engage with teens in your community and raise awareness for censorship and teen literature. The Belmar Public Library hosts a banned book week fashion show each year that is planned and executed by teens for teens. At this session, we will cover how this event came about, how to run a banned book fashion show and attendees will create their own banned book accessory.
Presented by Melissa Taylor and Lisa Dibbern
​
Copy Editing: What Is It? Do I Need It? How Do I Do That?
This workshop shows what copy editing is & its importance for writers. Attendees will be given 4 strategies to use when editing their writing. Mock edits or edits on a piece of their writing will be done.
Presented by Cheryl Carpinello
​
Building Better Beginnings
Create unforgettable beginnings that capture a reader's attention. This workshop shows how to engage readers instantly, at the beginning of the book and at the beginning of every chapter by organically weaving in the basic story elements of character, setting and plot. The opening of the presentation discusses time and how, with the other flashy entertainment options available to readers, writers don't have the luxury of 50 pages to ease a reader into our world. We don't even get 10 pages. We get 10 sentences, if we're lucky, and we have to make the most of them.
Presented by Todd Fahnestock
​
Local Author Panel
Five authors walk into a room and... answer questions from the audience. Learn about writing processes, writers block, and what it takes to be a published writer from these Colorado authors.
Presented by Amalie Howard, Laura Resau, Scott Bergstrom, Stan Yan, and Jason Henderson
​
Teen Connection Panel (2:45 - 3:45 p.m.)