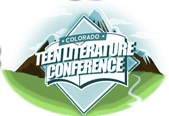 32nd Annual Colorado Teen Literature Conference
The 32nd Annual Colorado Teen Literature Conference will be held at the Metropolitan State University Denver's and the University of Colorado Denver's Auraria Campus on Saturday, April 18th, 2020, with keynote speakers Mackenzie Lee and Alan Gratz. This popular event is generously sponsored by Metropolitan State College of Denver, the University of Colorado-Denver, the Colorado Language Arts Society (CLAS), Pikes Peak Library District, The Word and REFORMA Colorado.
We are currently accepting proposals for program sessions at the conference. This is an excellent opportunity to try your hand as a presenter or moderator of a discussion panel. Traditionally this forum has been a terrific event for networking and learning about best practices for working with our teen populations.
We are looking for workshops that appeal to an audience of both adults (teachers and librarians) and teens, presented by authors, educators or experts in young adult literature. This year we especially encourage proposals in the following areas: Building Community, Inclusivity, Diversity, Trends, and Literacy through different mediums (graphic literature, art, etc.).
If accepted up to two presenters are given free spots to the conference. This includes continental breakfast and lunch. Additional presenters may register and pay to attend the conference. The Colorado Teen Literature Conference does not have access to audio visual equipment. Please plan to bring your own equipment.
Proposal submissions are due by December 1, 2019.