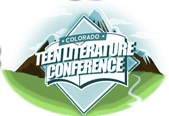 35th Annual Colorado Teen Literature Conference
Tasha Christensen believes the best loves stories are found in the geekiest places. When not composing tuba closet make-out scenes, she enjoys guest speaking at schools, getting away too competitive about board games, and exploring the gorgeous Rocky Mountains. Tasha lives with her husband, daughters, and an overly affectionate mutt named after her favorite Stranger Things character.
Megan writes middle-grade and young adult fiction, and her debut middle-grade novel, ALONE, is available from Simon & Schuster/Aladdin. Megan is also a Pushcart Prize-nominated poet, and her poetry chapbook, Lessons on Sleeping Alone, was published by Liquid Light Press. She used to live in northeast Los Angeles, central Ohio, northern Norway, and on Caribbean cruise ships. Now she lives in northern Colorado.
Instagram: @megan_e_freeman_writer
​
Growing up in the DC area, Olivia devoured books and hid in empty classrooms during school to finish them. Her debut novel, Perfectly Parvin, was published in 2021 by Penguin Random House Putnam Books For Young Readers, receiving starred reviews from Booklist, School Library Journal, and Best of 2021 lists from the Chicago and New York Public Library systems. Her sophomore novel, Azar on Fire, will be published in August 2022, with her middle grade debut in 2023. She currently lives in Denver, Colorado, with her husband and daughter.
​