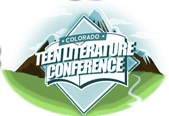 35th Annual Colorado Teen Literature Conference
Please enter the name of the attendee you are paying for in the boxed labeled Name. If paying for a group registration please enter the name of Registering Adult in the box labeled Name.
Prices for online payment include 1.50 adult and 80 cent student Paypal fee.