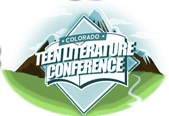 32nd Annual Colorado Teen Literature Conference
Prices
Price for conference:
Adult $75
Student $40
​
REFUNDS - We are unable to issue refunds after Tuesday, March 15th.
Pay by Check
To pay by check please mail payment with the following completed form to:
CTLC
PO Box 740152
Arvada, CO 80006
Pay Online
Please enter the name of the attendee you are paying for in the boxed labeled Name. If paying for a group registration please enter the name of Registering Adult in the box labeled Name.
Prices for online payment include 1.50 adult and 80 cent student Paypal fee.