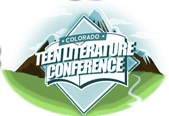 35th Annual Colorado Teen Literature Conference
Sessions I, II, and III
​
Breaking The Ice With Teens: 20 games in 50 minutes or less!
Want to turn a random assortment of teens into a team? Start playing games together. Games are great way to get groups of strangers to start working together, get to know each other, and enjoy themselves. From improv exercises to creative writing prompts, there is a plethora of games that can be played with a group. Come and play 20 of the best group games out there. These games can be used as icebreakers or creativity kick-starters or just for fun.
Attendees will understand the value of using group games to connect with teens and how games can encourage creativity, strengthen team dynamics, and allow even the shyest participants to express themselves.
– Presented by Thane Benson
​
Book Queeries: Not JUST Another (Queer) Teen Book Club
Once upon a time, in a not-so-far-away land, two valiant librarians embarked on a journey to provide a safe place for queer teens while the world battled (and continues to fight) a global pandemic, racial injustice, and a climate crisis. Learn how they created a hybrid space for teens and leveraged community partners to provide free books, local resources, role models, social connections - and more!

Whether you're interested in starting something similar at your library, or are looking for ways to create an inclusive space for LGBTQ+ teens - this session is for you!
– Presented by Julianna Ingram & Leanne Slater
​
Book Speed Dating
Looking for your next great read? How about a new book best friend? Join librarians for book-talking, speed edition, as we try to tell you about as many books as we can in three lightning rounds.
– Presented by Catherine Boddie, Lauren Reed, & Bridget Kiely
Ride or Die: Crafting Compelling Friendships & Found Family in YA
Just how do book friendships evolve from "You annoy me" to "I would die for you"? Come and join Leslie Vedder and Meg Long for a casual chat about the best friendships and found families across YA and other media. They'll discuss their favorite character partnerships before diving deeper into what makes a compelling friendship journey that keeps readers engaged to the very last page.
– Presented by Meg Long
​
Read Like the Wind!: Serving on a Book Selection Committee
What goes into choosing titles for a YALSA Selection List or book award? Learn more about YALSA Selection Lists, YALSA Book Awards, and Colorado Book Awards and what it takes to serve on one of these committees.
– Presented by Jayna Ramsey
​
The Rise of Social-Emotional Learning in Books
Books with a social-emotional learning (SEL) focus have soared as this generation of preteens and teens navigates how to interact and cope in a changing and sometimes frightening world. Explore recent fiction and nonfiction SEL titles as well as writing techniques used to engage readers.
*Explore recent MG and YA SEL in fiction
*Explore recent MG and YA SEL in nonfiction
*Learn SEL activities that can be implemented into classrooms and libraries
Participants will leave the session with an annotated bibliography of social-emotional books for preteens and teens, as well as activities to implement into classrooms or libraries.
– Presented by Jessica Speer
​
Roll For Initiative!: Collaborative Storytelling With Dungeons & Dragons
Roleplaying games like Dungeons & Dragons offer a unique medium for storytellers of all ages to create tales of adventure together! This informational session aims to introduce the uninitiated into the world of D&D, offer virtual tools to facilitate your gameplay, and encourage questions and get ideas about how to bring role playing games to your school, library, or random gaggle of teenagers.
– Presented by Emily Embry
How to Host an Author Visits during a Pandemic: The Good, The Bad, & The Ugly
In the past two years we've managed to plan, cancel, reschedule, redefine, recalibrate, host, and fumble through virtual author visits. Come learn from our mistakes and successes how to connect your school communities to authors during a global pandemic.
– Presented by Hollie Hawkins & Michelyne Gray
​
The Reimagined Colorado Blue Spruce Award
The presentation will announce the book which will have won the 2022 Colorado Blue Spruce. The presentation would include some of the judges and how they felt about being a teen CBSA judge.
– Presented by Julie Wielga, Vivie Bates, and the Teen Panel
Reach More Readers With Novels in Verse
Come explore how verse novels can engage reluctant and enthusiastic readers and writers, and discover ways to teach key differences between verse and prose. Leave with an annotated bibliography and teaching strategies to implement in your classroom.
– Presented by Megan E. Freeman
​
Who Are You?: Character Building for Beginners
Whether for a novel, short story, movie, or even a table top rpg, the process of making a satisfying character from seemingly nothing can be an arduous ordeal. It requires creativity, empathy, and an understanding of the human condition. We've all seen characters who both grab our imagination, and ones that seem to be unrealistic and one dimensional. In this session, we hope to convey the methods that you can use to bring wonderful and engaging characters into any media you hope to create.
1. What is a character, and what makes them stand out?
2. Weakness and Conflict are your greatest strengths. 3. Your Backbone is Back story. 4 Sharing your Character!
– Presented by Reuben Hollenbeck & Kelly Milan
​
Adulting 101: Career Planning for Teens
Are you a teen thinking about what you want to do after high school? Good news: career planning is a lifelong process, so you don't have to figure it all out now. Better news: you can get a jump start on the process with this session! Come join Career Services Librarian Christine Dyar as she discusses the different paths teens can take on the road to a career. She'll share insider information on resources to guide the process whether you're a teen or an adult who wants to support the teens in your life.
– Presented by Christine Dyar
​
What's New in Young Adult Literature?
Join us as we book talk new Young Adult lit we think will engage young readers and have them asking for more good titles from their teachers and/or librarians.
– Presented by Arra Katona and Bridget Kiely
​
Local Author Panel
Four authors walk into a room and... discuss writing, books, and more! Learn about writing processes, writers block, and what it takes to be a published writer from these great Colorado authors.
- Presented by Olivia Abtahi, Tasha Christensen, and Megan Freeman
​
Teen Connection Panel (2:45 - 3:45 p.m.)