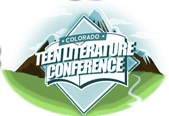 32nd Annual Colorado Teen Literature Conference
FAQ
Frequently Asked Questions for the
Colorado Teen Literature Conference
Colorado Teen Literature Conference at a glance
April 9th, 2022 at The Tivoli on the CU Denver Auraria Campus.

Registration will open Monday, February 7th, 2022.

If you plan to register a group, please be prepared to have the names of all the members of your group when you register.
Parking
Parking is available on campus for a fee, pay at kiosk. Both the Tivoli Parking Garage and the 7th Street Parking Garage close to the Tivoli Student Union building.
The 7th street garage is sometimes free if the campus is hosting an open house for new students.
Weather Disclaimer
​
While the planning committee does everything we can to keep the conference open, in the event of a weather emergency the CTLC committee reserves the right to cancel the conference. In the event that the conference is canceled due to inclement weather (and by inclement we mean an honest-to-goodness-blizzard-conditions) we will not be able to refund your registration fees. We realize that this sounds very unfair, however, as weather does not give us advance notice, the conference committee will have already paid for the conference breakfast and lunch and the keynote speakers will most have already traveled to Denver for the event. We apologize for the inconvenience this will cause.
Refunds
Due to costs paid by the conference, last day to cancel with refunds is
30th of March
. Additionally, for in person conferences, meal choices are not able to change after this date. If the conference is unavoidably cancelled (due to weather or other unforeseen circumstances) refunds are not able to be issued.
Nearby Hotels
The Colorado Teen Literature Conference is hosted on the

Tivoli Student Union Building,

Auraria Campus in downtown Denver. There are several hotels nearby. Here is a short listing of some nearby hotels:
Reimbursement for Presenters
We are a small volunteer run conference with a very limited budget and as such the Colorado Teen Literature Conference is not able to reimburse session presenters for any costs associated with the conference, including but not limited to airfare and hotel costs.
Selling books at the CTLC
The Auraria bookstore sells some of the titles from the Colorado Teen Literature Conference on the exhibit floor. As they are a smaller sized bookstore they are only able to offer select titles. Use the above contact form to inquire about including your book in the Auraria Bookstore sales.
Exhibitor tables are available for purchase to sell books and other teen literature related merchandise.
Presenters may sell their books at the end of their presentation sessions. As this is an educational conference please limit the sale of your book to the last five minutes of the presentation. Sessions need to be focused on delivering information and sharing ideas on the topic being presented.



All persons selling books or other materials at the Colorado Teen Literature Conference are responsible for complying with sales tax regulations.