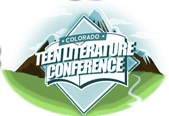 32nd Annual Colorado Teen Literature Conference
Registration Confirmation
Your registration has been received.
​
The 2021 Virtual Conference will be Saturday, April 10th from 8:30 am - 1 pm. You will receive a link via email to join the virtual conference prior to April 10.
​
Payment must be received by Wednesday, April 7, 2021. Refunds will not be issued after April 7, 2021.
​