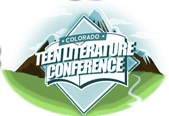 35th Annual Colorado Teen Literature Conference
Grants are available for adult and teen participants. All grants include conference registration ($75 for adults and $40 for students), breakfast snacks and lunch at the Colorado Teen Literature Conference.
Grant applications for the 2020 conference are currently open and will close January 31st, with recipients being notified shortly after. All applicants will be notified of final decisions by email.
Grants are awarded before general registration opens. If you do not receive a grant you may register for the conference starting the first Monday in February.
Teen Grants
Teen Connection Panel (TCP): Ten teens will be selected to ask authors questions for the audience. You will sit at a table in front of an audience of around 300 people and speak into a microphone to ask your prepared questions. To prepare, you will need to read books by both authors and prepare 5 thoughtful questions to ask both of them.
​
REFORMA Colorado: Students in grades 6-12 and teens who are homeschooled are eligible to apply. Teens may self-nominate or be nominated by a teacher or librarian. Latina/o students are encouraged to apply for the REFORMA grants.
Each student may only apply for one grant; duplicate applications will result in removal from consideration. Students who have received grants in the past are not eligible.
Adult Grants
​
TBD
​