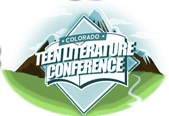 35th Annual Colorado Teen Literature Conference
Save the Date!
Saturday, April 9, 2022
8:00 am - 4:00 pm
(Photos courtesy of Xiran Jay Zhao)
Xiran Jay Zhao is the #1 New York Times bestselling author of the Iron Widow series and Zachary Ying and the Dragon Emperor. A first-gen Hui Chinese immigrant from small-town China to Vancouver, Canada, they were raised by the Internet and made the inexplicable decision to leave their biochem degree in the dust to write books and make educational content instead. You can find them on Twitter for memes, Instagram for cosplays and fancy outfits, TikTok for fun short videos, and YouTube for long videos about Chinese history and culture.
Roshani Chokshi is the author of commercial and critically acclaimed books for middle grade and young adult readers that draws on world mythology and folklore. Her work has been nominated for the Locus and Nebula awards and has frequently appeared on Best of The Year lists from Barnes and Noble, Forbes, Buzzfeed, and more. Her New York Times bestselling series include The Star-Touched Queen duology, The Gilded Wolves, and Aru Shah and The End of Time, which was recently optioned for film by Paramount Pictures.
7:30 am Registration Opens
8:30 am Welcome & Intro
8:40 am Keynote: Xiran Jay Zhao
9:15 am Break
9:30 am Session I
10:45 am Session II
12:00 pm Lunch
12:45 pm Keynote: Roshani Chokshi
1:30 pm Session III
2:45 pm Teen Connection Panel
4:00 pm Author Signing
The mission of the Colorado Teen Literature Conference is to build a community of teens, readers, writers, authors, and literacy advocates.
​
There are few conferences that I find as valuable and inspiriting as this. It's a thrill to attend.
- Todd Mitchell
About
The Colorado Teen Literature Conference is an annual event held each spring in Denver, Colorado to promote and celebrate teen literature.
Fantastic job! Really one of the best conferences I've ever been a part of.
-Pete Hautman
Conference Handouts




Available After




The Conference