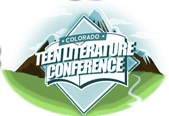 35th Annual Colorado Teen Literature Conference
Session One (9:30 - 10:30 a.m.)
​
B!tche$ on Comics Live Recording: Teens on Comics
Description: BoC is a local advice podcast about comic books and pop culture and we will record an episode LIVE at the CTLC. At this session we will interview a teen comic creator and answer audience questions. This humorous podcast guarantees big laughs and hardcore nerding out.
Presenters: S.E. Fleenor & Sara Century
Presenter Bio: Century is an artist, writer and filmmaker obsessed with most things. Fleenor writes novels, creative non-fiction and articles on feminism, queer identities, pop culture and literature.
​
Engaging Readers with the Rubik's Cube
Description: They say "A picture is worth a thousand words," but how many words is a mosaic made of Rubik's Cubes worth? Find out how to introduce a program into your school to engage students in reading using the Rubik's Cube. This program is a fun way to integrate a hands-on experience that can connect art to literature while building community.
Presenter: Dan Van der Vieren
Presenter Bio: Dan is an Ambassador for You Can Do The Rubik's Cube. He has presented at numerous conferences, including TEDxBoulder on "Using the Rubik's Cube to Enrich STEAM Education."
​
Editing: Do I really need to edit? How/when do I edit?
Description: Writing a good story isn't enough. Stories need to flow and be consistent from chapter to chapter and from book to book in a series. Authors also need to have a story free of spelling, punctuation, and usage errors. This is especially true for self-published authors.
Presenter: Cheryl Carpinello
Presenter Bio: CHERYL CARPINELLO, a retired Jeffco high school English teacher, writes Tales & Legends for Reluctant Readers. She loves spending time with family & grandkids.
​
Blue Spruce Young Adult Book Award
Description: This statewide award gives teens an opportunity to nominate and vote on their favorite books. Come learn about the nominees for 2020, and walk out with ideas for promoting the award in your school or library.
Presenters: Teresa Allen and Tana Lucero
Presenter Bio: Tana, a Teen Services Librarian for Jeffco Public Library, creates unique programs for teens. Teresa, a CO State Library consultant, is a former middle school teacher who has also taught teen felons.
​
Making the Strange Believable: Vital Secrets for Writing Sci-Fi & Fantasy
Description: Learn techniques writers use to make sci-fi and fantasy writing engaging and believable. Practical tips will be given for avoiding common pitfalls, developing fictional worlds, and getting readers to accept incredible events. Explore why The Exorcist was popular in 1973, The Matrix in 1999, and The Hunger Games in 2014.
Presenter: Todd Mitchell
Presenter Bio: Todd Mitchell is the award-winning author of several books, including The Last Panther, The Traitor King, The Secret to Lying , Backwards, and A Flight of Angels. www.ToddMitchellBooks.com
​
Creative Writing Lab: The Story You Want to Tell
Description: This hands-on workshop will help you tell any story you want to tell. Using a variety of materials including word tickets, paint chips, Sharpies, watercolor and more, we'll explore unique ways to discover and capture the very best words for whatever we want to say. You'll leave with several written pieces and ideas for continuing them on your own.
Presenters: Roxanne Banks Malia & Kimberly O'Connor
Presenter Bio: Roxanne and Kimberly are co-directors at Lighthouse Writers Workshop. Roxanne's poetry has appeared in multiple publications. Kimberly's first poetry collection, White Lung, is coming in fall 2021.
Book Speed Dating
Description: Looking for your next great read? How about a new book best friend? Join librarians for book-talking speed rounds as we try to tell you about as many books as we can in four lightning rounds.
Presenters: Lauren Graham, Catherine Boddie, Susan Malone; Bridget Kiely
Presenter Bio: Catherine, Bridget, and Lauren are the teen librarians for Arapahoe Libraries. Susan is the collection librarian for kids and teens. They spend lots of time talking about books.
​
Best & Brightest
Description: Annually, library staff at the Denver Public Library read all of the new books for youth that hit our shelves. Hear from the teams that read the Teen Fiction, Nonfiction, and Graphic Novel titles and learn about the selection process, criteria, and current trends in teen lit.
Presenters: Kaley Noonan, Victoria Blepp, Judy Craigo-Robb, Thane Benson
Presenter Bio: Kaley, Victoria, Judy and Thane are all librarians at the Denver Public Library
​
So You're Writing Your First Novel
Description: That first book is an enormous milestone, but it's also a journey fraught with wrong paths, procrastination, self-doubt, and all the ways you can find yourself off track. Looking for some real-world tips and strategies from someone who's been there? Come prepared to talk about your work with an experienced author and writing instructor.
Presenters: Travis Heermann, AKA T. James Logan
Presenter Bio: Logan writes in a variety of genres, from science fiction, fantasy, and horror to working on roleplaying games and screenplays. He is the author of eight novels, including The Hammer Falls, Death Wind, and The Ronin Trilogy.
​
​
Session Two (10:45 a.m. - 11:45 a.m.)
​
Teen Only: TBA
Teen Only Sessions provide an opportunity for the teen attendees to attend a presentation with the keynote authors, without the prying eyes of adults.
​
Why Teens Need Controversial Books
Description: As the authors of YA books that take on gun violence and the state of our democracy, Rusch and Michelle do not shy away from controversy. Neither do teens. In this discussion and workshop, the authors will lead participants on an exploration of how to effectively use controversial books to inspire and engage teen readers, writers, thinkers, and activists.
Presenters: Elizabeth Rusch & Michelle McCann
Presenter Bio: Elizabeth Rusch is the author of more than a dozen award-winning books. elizabethrusch.com. Michelle McCann is the author of over nine award-winning books. michellermccann.com
​
The Hero's Journey in Teen Fiction
Description: The presentation will explain Joseph Campbell's concept of the hero's journey, how it applies in particular to teen literature, and what authors and others can do to make literary journeys a compelling and life-changing experience for teen readers.
Presenter: P.H.C. Marchesi
Presenter Bio: Marchesi is a professor at LaGrange College. She is the author of two award winning science fiction novels and has just finished a third novel, "Florissant," winner of an Eyelands International Fiction Award.
​
What's New in YA
Description: Join us as we book talk new YAL we think will engage young readers and have them asking for more good titles from their teachers and/or librarians.
Presenters: Karen Hartman and Sheila Kaehny
Presenter Bio: Karen is the director of the Colorado Writing Project and Sheila is both on the staff of the CO writing project and a middle school teacher.

A Journey with Strange Bedfellows; Making the Classics Relevant to 21st Century Teens Using Transmedia
Description: Using an example of 6 classic short stories that were melded into a continuous tale and produced as an audio drama and a graphic novel, this presentation will demonstrate how transmedia (and a S.T.E.A.M. based curriculum educators' guide) can make classic literature relevant, immersive and "edu-taining" for educators, librarians, parents and their students.
Presenters: Mary Madera & Jan C.J. Jones
Presenter Bio: Mary Madera holds a BA in English, an MS in Curriculum & Instruction. Jan C. J. Jones holds a BS in Biology / Chemistry. Her technical writing skills transformed into creative writing career specializing in non-fiction, multi-media edu-tainment projects.
​
Quick Writing Games to Increase Creativity
Description: Join award-winning author Todd Mitchell as he shares techniques and activities he's developed over two decades of teaching poetry and fiction in schools. The short writing games he'll present are certain to help even the most reluctant writers free their wild minds and discover the thrill of writing so that they can approach other writing tasks with energy and inspiration. Bring paper and pen and prepare to play with words.
Presenter: Todd Mitchell
Presenter Bio: Todd Mitchell is the award-winning author of several books, including The Last Panther, The Traitor King, The Secret to Lying , Backwards, and A Flight of Angels. www.ToddMitchellBooks.com
​
Empowering Teens through Connected Learning
Description: The Connected Learning model builds on the idea that teens learn best when their experiences are guided by their own interests, supported by their peers and mentors and have connections to the real world. Explore the benefits of Connected Learning, what it looks like in different library settings, and how you can cultivate it in your library.
Presenters: Beth Crist & Catherine Boddie
Presenter Bio: Beth works for the CO State Library and supports youth and families by coordinating statewide initiatives. Catherine is a Teen Services Librarian for Arapahoe Libraries with a focus on outreach to schools.
​
Teacher as Writer
Description: A writing teacher must constantly be developing their own writing practice, but in a busy world this can be tough. We'll discuss writing routines and practice reading like a writer and writing like a reader. We'll discuss the importance of reading diverse mentor texts in our own lives and in our classrooms.
Presenter: Johanna Parkhurst
Presenter Bio: Johanna is a former K-12 literacy teacher and is currently a member of the English faculty at Pueblo Community College. She is the author of multiple novels under various names.
​
Fully Engaging the Most Vulnerable Students
Description: This session focuses on engaging some of the most vulnerable and reluctant readers. There is a lack of diversity in children's books despite a general push for more diversity. How do we encourage these students to want to read? Is it possible to change the literacy culture at your school? How do you go about finding culturally relevant texts to the students you teach?
Presenter: Montgomery Jones
Presenter Bio: Montgomery Jones is an AmeriCorps Member at Denver Discovery School, runs a chapter of Well Read Black Girl book club and is on a committee for Children's Festival of Stories.
​
Session Three (1:30 - 2:30 p.m.)
​
Teen Only: Alan Gratz
Teen Only Sessions provide an opportunity for the teen attendees to attend a presentation with the keynote authors, without the prying eyes of adults.
​
Selling Diversity
Description: Our pop culture icons and heroes have become more diverse in recent years. While I champion diversity in media, I encourage consumers of pop culture to think critically about what they are buying and who is profiting.
Presenters: Christy Headrick & Jasmine Curry
Presenter Bio: Christy Headrick has been a youth librarian for over ten years. She purchases for youth collection development and has created popular programs for tweens and teens.
​
Writing for Comedy
Description: Come prepared to laugh and learn as Mark shares writing tips for jokes performed on stage, as well as humor written on a page. Mark will dive into his comedic journey including the writing of a novel and recording of its audiobook. Mark will show how a joke can go from a tiny idea and be refined over time until it is performed on stage at a comedy club, pulling out lessons you can use to add humor into your own writing.
Presenters: Mark Masters
Presenter Bio: Mark Masters (www.markmasters.co) is a comedian who tries to write something funny every day. Mark wrote a book about his comedy journey (www.notgoodyet.com).
​
One Book-Many Voices-Many Realities
Description: What is truth? Is it an absolute, or only each person's perception of truth. This presentation focuses on how literature can help teens see past possible perceptions of reality and how one book can be used in multiple ways to create meaningful discussion and writing about difficult subjects, like suicide.
Presenter: Terri Fields
Presenter Bio: Author of 28 published books for teens and children. Most recently, a 2019 YA Winner New Mexico/Arizona Book Awards for AFTER THE DEATH OF ANNA GONZLES (Square Fish/Macmillan).
​
The Power and Privilege of Writing Plus-Sized Characters
Description: 13.7 million children or teens in America are plus-sized and 40% of all adults. And yet, the percentage of character representation in publishing is nowhere near that number. In this panel we'll talk about the power of the word fat, ways to create and describe fat characters, and the power of fat characters who love themselves.
Presenters: Sheena Boekweg & Cassandra Newbould
Presenter Bio: Sheena Boekweg is the author of Glitch Kingdom. Cassandra Newbould is the host and creator of the Fat Like Me Podcast and is a YA author.
Character: If You Think You Know Any Normal People, You Probably Don't Know Them Very Well
Description: Why are some characters unforgettable? Why do we love or hate characters that only live in make-believe? In this seminar, we'll pull apart your favorite characters and see what's inside. We'll look at description, flaws, motivation, values, and why it's all up to them.
Presenters: Jim & Stephanie Kroepfl
Presenter Bio: Jim and Stephanie write YA novels and stories of mystery and adventure that have been published in the US and England. Their debut novel, "Merged", was published in 2019.
​
Local Author Panel
Five authors walk into a room and... answer questions from the audience. Learn about writing processes, writers block, and what it takes to be a published writer from these Colorado authors.
Presented by Amalie Howard, Laura Resau, Scott Bergstrom, Stan Yan, and Jason Henderson
​
Teen Connection Panel (2:45 - 3:45 p.m.)